KOMPONISTEN A-Z ->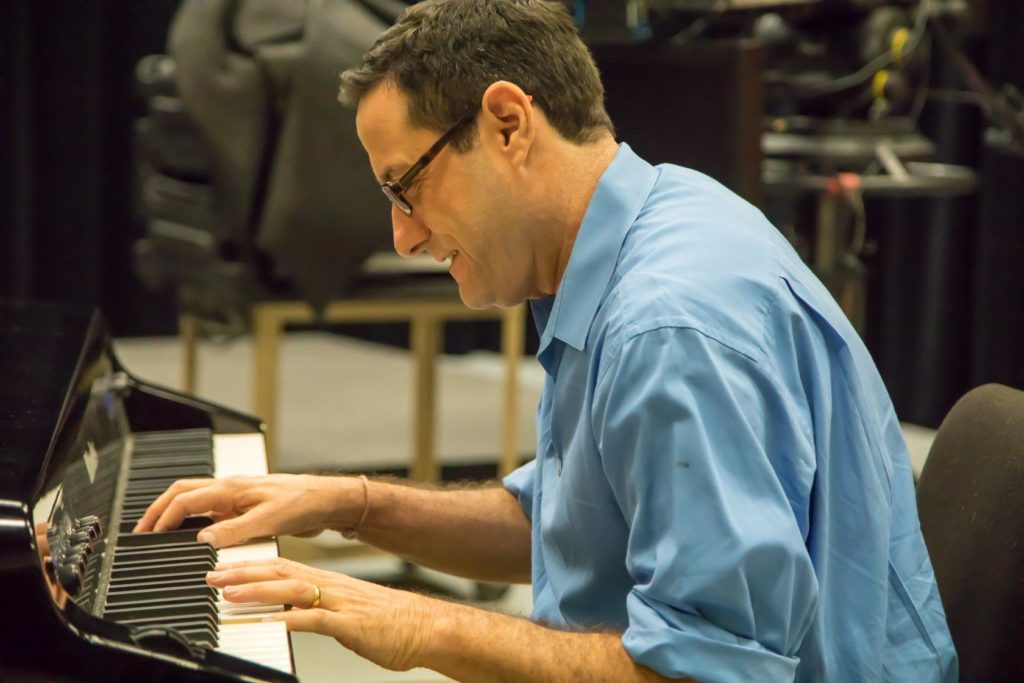 David Claman (Foto: Steve Buonanotte)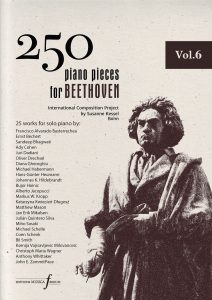 Vol. 10
David

Claman
(US)
– दो सौ पचास सा – do sau pachaas saal (250)
David Claman über sein piano piece दो सौ पचास सा – do sau pachaas saal (250):

"दो सौ पचास" simply means "two hundred fifty" in Hindi. This short piece takes the theme of the Andante con moto movement of Beethoven's fifth Symphony and reimagines it using an unsystematic quartal interval structure and tampura drone accompaniment. Truth be told, Beethoven and his music strike me as decidely un-Indian; as having almost no connection to Indian music and culture. They are solidly rooted in the the European tradition. (One possible exception might be an explicit or implicit spiritual message present in his music and much of India's classical music.)
Nevertheless, Susanne presented me with a challenge by encouraging me while composing this tribute to make use of my experience as a contemporary composer with a deep interest in Indian music. What would Beethoven be like were he alive today? What might his music sound like had he been exposed to music from around the world and to pitch structures different than those based on tertian harmony? My guess is that he would be very curious and knowledgable about such things.
I combined elements of both by removing harmony and rhythm and adding a drone accompaniment to suggest the unmetered alap of Indian classical music, and by using a melodic pitch structure based on intervals of the fourth rather than the third. What remains is the transformed but Rock solid and also vulnerable melody theme of his Andante con moto movement the fifth Symphony.
I'll end with a brief anecdote about how we may think about time and history which perhaps has a tangential relation to Susanne's interesting project. Not long ago I attended a concert of Indian classical music in New Delhi. I noticed the singer using an unusual vocal technique at certain times which I had not heard before. After the concert I asked an Indian singer friend about it. He said, "Yes, that is a recent innovation." I said, "Really? How recent?" He said, "Two hundred years." Maybe 250 years is not long ago, and Beethoven's music—as is clearly the case—is alive and with us and innovative today."

दो सौ पचास सा – do sau pachaas saal (250) – Aufführungen:
12. Januar 2020 – Uraufführung – Kunstmuseum Bonn – Susanne Kessel, Klavier
David Claman
David Claman is Associate Professor at Lehman College-City University of New York, where he teaches music theory and composition. He's held residencies at the MacDowell Colony and the Bellagio Center in Italy. He's received grants from The Fromm Foundation, The American Institute of Indian Studies, and a Fulbright to India where he was a visiting professor at Delhi University. David's been commissioned by The American Composers Forum, The Cygnus Ensemble, flutist Tara Helen O'Connor, and the Creviston Fader saxophone/guitar duo.
Additional recorded works can be found on the Innova and Bridge labels.
David Claman holds a bachelor's degree from Wesleyan in the music of South India. He has a master's in theory and composition from The University of Colorado, and a Ph.D. in composition from Princeton.