KOMPONISTEN A-Z ->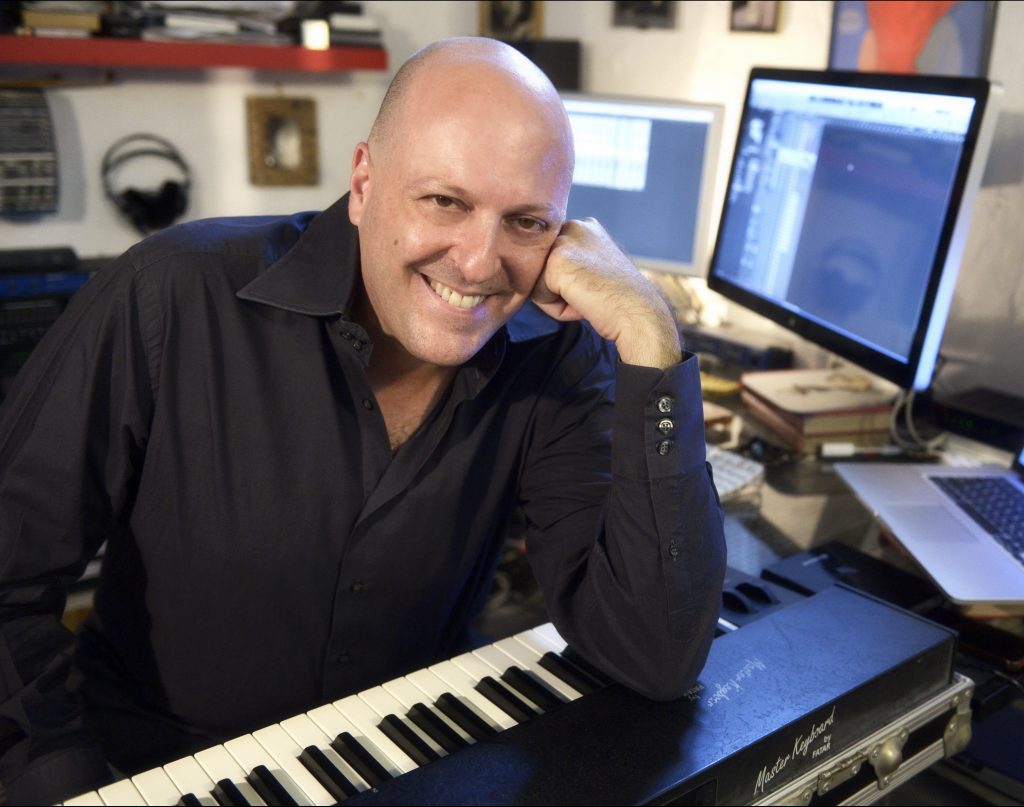 Ady Cohen (Photo: Yossi Zwecker)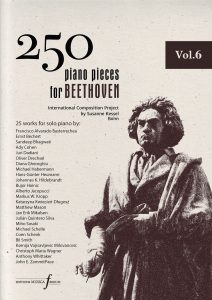 Vol. 6
Ady

Cohen
(IL)
– Sonata in F?
Aufnahme "Sonata in F?" zum Download hier klicken: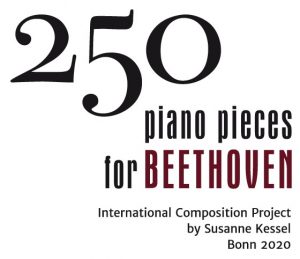 Ady Cohen "Sonata in F?" – Susanne Kessel, Klabier
Ady Cohen über sein piano piece "Sonata in F?":
"I was thinking about the Beethoven piece that Susanne Kessel, the wonderful pianist, has asked me to write to honor the master's 250th anniversary, for a long time. As a film composer, I'm used to compose music for drama (films, theatre), so I did with the Beethoven piece exactly what I'm used to do when I'm composing for drama: I was looking for a story, a conflict, a motive, something in order to have a reason for composing my piece. I asked myself: what is the angle, what should I concentrate on for this piece – should it be something from Beethoven's life? A piece he wrote? Or maybe his deafness?
One day in September 2017, I realized that I received the answer about my piece. For a few months before that fateful day, I have been walking around with this music, which I knew by heart, in my head. It was a piece that my late mother, the wonderful, renowned pianist-accompanist Ruth Mense, played all the time, accompanying all the greatest violinists in the world – Szeryng, Perlman, Stern, Zuckerman, Mintz, Shaham and many others. But I couldn't remember which piece it was exactly, out of all the many pieces that were stuck in my memory that my mother used to play, over and over again. I thought that maybe it was something by Brahms, or by someone else from the Romantic period. But on that day in September (the 12th to be exact) I suddenly remembered: it was the incredible Violin Sonata no. 5, op. 24 by, who else – Beethoven!
I know this piece by heart – both parts, violin and piano – because as a child I heard it all the time played by my mother. She played it so many times, that for me, whenever I hear this piece – I see my mother. This piece IS my mother for me – as are her other favorite pieces, like the César Franck violin sonata, or the Schubert Arpeggione Sonata, for example.
I was amazed to find out that it was Beethoven. It was mystical – here I am, supposed to write something for Beethoven's 250th anniversary, and this piece that has been haunting me since my childhood comes back to haunt me now again. Can there be a clearer sign than this for me? That is the sign – this sonata is the reason for my piece! This is the connection between Beethoven, my mother, my childhood – and my inspiration.
After starting to compose (it went quite easily after that!), my piece started to get its own life. "Sonata in F?" tries to get into the mind of Beethoven as he was writing his violin sonata in F, struggling with his ideas and inspiration, but also having a dialog with the future – with what would come after him in music (Satie for example). I believe that all real artists are like prophets. They are connected to the universe and to the depth of the soul and they can see things into the future. This sensitivity is reflected and is evident (even though often hidden or hinted at) in the masterpieces given to us by those masters.
I've read that Beethoven started to lose his hearing during the time he composed this sonata (I found this on the Internet: "The deafness began in 1798 and Beethoven had lost 60% of his hearing by 1801 at age 31". The sonata was published in 1801). I've often wondered about Beethoven and his deafness. I think that this piece, written as he was drifting into silence, at least from the outside, reflects his move towards an inner sound.
So my piece has some nice, sometimes funny, references to a few things, some will be apparent to the listener and some only to the pianist… For instance, one of the things a composer has to think about is the meter of the piece. In this piece, at one point (bars 54-58) the meter starts at ¾ (bar 54), the next bar is in 4/4, the next in 5/4, then 6/4 and it ends on 7/4 (7 is a meter strongly apparent in this piece). Since the melody of Beethoven's original sonata is playing throughout those bars, the linear progression of the meter changes can be apparent only when looking at the score – it's like an internal mechanism of a seemingly equal-metered melody.
A few more words about my mother, Ruth Mense: a wonderful pianist and person, a child prodigy, who studied at Juilliard in the 1950's, she very quickly became one of the world's greatest accompanists and worked with the biggest talents in instrumental and vocal music. Some of her closest collaborators were Henryk Szeryng, Christa Ludwig, Monserrat Caballé, Ivry Gitlis, Isaac Stern, Itzhak Perlman, Shirley Verrett, Silvia Marcovici and particularly Leonard Bernstein (who later became my patron). She died in 1988, at age 55, from complications of Multiple Sclerosis. I miss her terribly. She was so sweet and young and music was her life. She loved everyone and everybody loved her. This year, 2018, marks the 30th anniversary of her passing. This piece is dedicated to her."
Piano piece "Sonata in F?" – Aufführungen:
14. Dezember 2018 – Uraufführung – Klavierhaus Klavins – Susanne Kessel, Klavier
Ady Cohen (*1965)
Ady Cohen is a film composer who also composes music for the stage, TV and the concert hall, and an Associate Professor of Contemporary Writing and Production at Berklee College of Music in Boston. A winner of the 2012 ACUM Award for Best Score for a Children's Film, the 1998 Israeli Academy Award for Best Film Score as well as numerous other Israeli and international awards, his career ignited after the late Maestro Leonard Bernstein took him under his wings, became his patron and sponsored his studies at New York University, where he graduated with Honors as a Bachelor of Fine Arts.
Ady has composed over 50 film scores, among them: the animated feature film "The Legend of King Solomon", the international hit "Passover Fever", "Dangerous Acts" (which brought his the Israeli "Oscar" for Best Film Score) and more. He has written the music for numerous theater plays, among them Molière's "The Imaginary Invalid" and Shakespeare's "The Merry Wives of Windsor" (Khan Theater), Zeller's "La Vérité" and Shakespeare's "The Taming of the Shrew" (Beit Lessin Theater) and "Lend Me a Tenor" (Haifa Theater with the Cameri Theater), and dance performances ("The Land of Rape and Honey" by Liat Dror Nir Ben Gal Dance Company, in collaboration with Théâtre de la Ville, Paris), as well as for TV films and series, such as "The Ex List" (Channel 2), "When Shall We Kiss" (Channel 10), "Custody" (Channel 2) and "Deus" (The Children's Channel). His music for numerous animation series for Fox International Channels' BabyTV is watched by 100's of millions of people around the globe. Other children's music include music for BabyFirst TV, for "Sesame Stories" (Israel's Hop TV), for the successful animated films "Caspion" (Silverfish), "Trunk Tales" and more. His talents are also employed by the advertising industry in TV, cinema and radio commercials and jingles, and his concert music has been heard around the globe in venues such as Carnegie Hall and Lincoln Center in NY.