COMPOSERS A-Z ->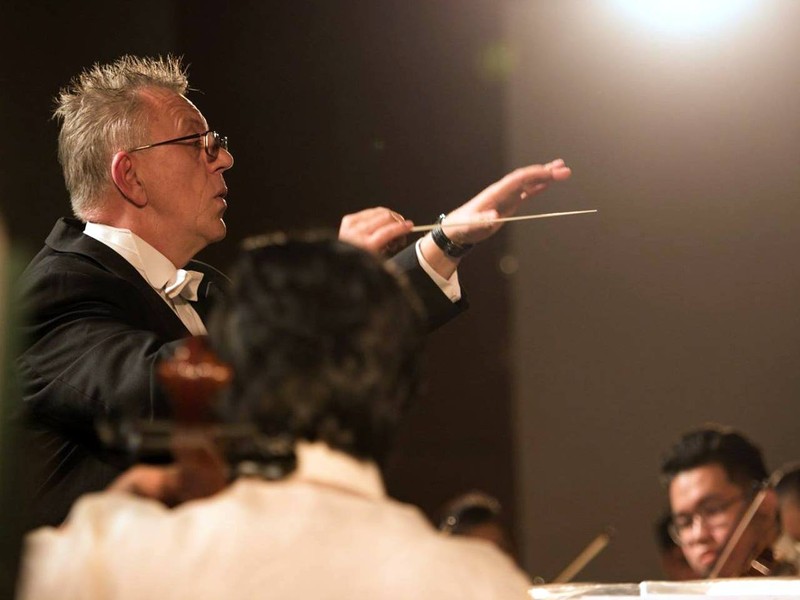 Horst-Hans Bäcker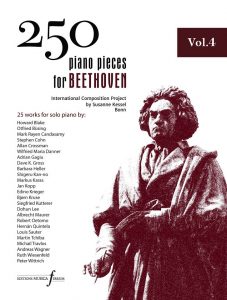 Vol. 9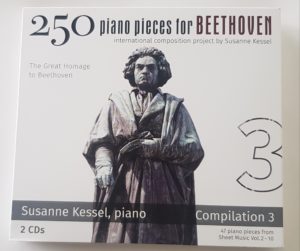 CD Compilation 3
Horst-Hans

Bäcker
(RO/DE)
– Fantasie über Ludwig van Beethoven
Horst-Hans Bäcker about his piano piece "Fantasie über Ludwig van Beethoven":
"Ludwig van Beethoven, ein großer Komponist, für mich einer der drei weit herausragenden Meilensteine in der Musikgeschichte….wie klingt dieser Name wirklich? Diese Frage ließ mich nicht mehr los bei dem Plan ein Stück zu 250 Klavierstücke für Beethoven zu komponieren. Dafür habe ich, wie schon einige Male in der Vergangenheit, eine Vertonung des Alphabets erstellt. Alle Buchstaben denen eine Note direkt zugeordnet werden kann und die verbleibenden 12 "nicht vertonbaren" Buchstaben mit einer 12-Ton Reihe unterlegt ermöglichen nun alle Buchstaben des vollständigen Namens zu vertonen. Hinzu kommen noch die Harmonien der jeweiligen Töne und der Rhythmus der sich fast zwangsläufig aus dem gesprochenen Namen sowie der entstehenden Melodie ergibt."
"Fantasie über Ludwig van Beethoven" – in concert:
9th September 2019 – world premiere – Historisches Gemeindezentrum Bonn – Susanne Kessel, piano
Horst-Hans Bäcker (*1959)
Born in Bucharest (Romania) and took his first piano lessons at the age of five with Tamas Vesmas. In the summer of 1973 Bäcker left Romania with his parents and came to Germany where he studied composition from 1981 with Professor Ludwig Werner Weiand at the Conservatory in Wuppertal. Bäcker continued his studies at the Mozarteum in Salzburg, where he studied Composition with Professor Gyula Horvath, Conducting with Professor Kurt Prestel and Performance Practice of Early Music with Professor Nikolaus Harnoncourt from 1983 to 1986. In 1984 Bäcker founded the SALZBURGER VOKALENSEMBEL and directed this chamber choir until his departure from Salzburg.
Bäcker completed his Masters in Composition from 1986 to 1989 under Professor Jürg Baur at the Rhineland Academy of Music in Cologne. Since his studies in Cologne Bäcker has been commissioned to compose music by musicians and chamber ensembles from all over the world. In addition, he has been commissioned to compose music for special occasion by various European cities. With his composition "From the Depth I Cry Out to You Lord" Bäcker won the prize of the De Profundis Composers Competition in Cologne.
He completed his formation as a conductor in Master Classes with Jorma Panula.
In the year 1996 Horst-Hans Bäcker founded a symphony orchestra, out of which the INTERNATIONALE PHILHARMONIE was founded two years later and for which he was appointed Principal Conductor at the same time. He has been a regular guest conductor of orchestras in Romania, Spain, Denmark, Holland and Brazil.
Since 2003 Horst-Hans Bäcker is permanent guest conductor of Arad State Philharmonic Orchestra and the State Philharmonic Orchestra "Oltenia" in Craiova. Since 2006 he is also permanent guest conductor of the State Philharmonic Orchestra "Banat" in Timisoara and was commissioned by the orchestra to compose a work for Choir and Orchestra for the Celebration of 60 years as Romanian State Orchestra. The composition "Rapsodia Timisoreana" including tribute to the most important Romanian Composer George Enescu and the most important Romanian poet Mihai Eminescu, was enthusiastically received by the members of the choir and the orchestra as well as by the audience.
Among the numerous soloists he has worked with, Bäcker has established some long-term musical partnerships, among others with the panpipes players Gheorghe Zamfir and Matthias Schlubeck, with the violinists Christina Anghelescu, Bogdan Dragus, Sophie Moser and Sebastian Casleanu, with the Canadian guitarist Dale Kavanagh, the German-Canadian Amadeus Guitar Duo and the British Eden-Stell Guitar Duo, as well as with the pianists Katja Huhn, Ekaterina Litvintseva, Mihai Ungureanu and Tamas Vesmas.
Horst-Hans Bäcker's first CD SPANISH NIGHT including Joaquin Rodrigo's Concertos for 1, 2 and 4 Guitars and Orchestra was enthusiastically received by the critics. Also the following recordings SPANISH NIGHT II with the guitarist Dale Kavanagh, Amadeus Guitar Duo, panpipes player Gheorghe Zamfir and the State Philharmonic Arad including his own composition RAPSODIA MALLORQUINA, the CD Berühmte Opernarien – Panflöte und
Orchester with soloist Gheorghe Zamfir and State Philharmonic Arad, as well as the CD ZauberPANflöte with panpipes player Matthias Schlubeck and the State Philharmonic Transylvania were very successful and full of tribute.
Beside his Compositions Horst-Hans Bäcker, since 2006, is delighting the audience with his Arrangements for Symphonic Orchestra and some for Choir and Orchestra of works by the Bands such as Beatles, Queen, Deep Purple, Led Zeppelin, Rolling Stones, Supertramp and others. Each time these concerts are sold out and Highlights were some Open Air Concerts with each about 25,000 enthusiastic spectators. Another positive effect of this kind of concerts is to bring young people closer to Symphony Orchestras and Choirs.
Since 2016 Horst-Hans Bäcker is living in Cagayan de Oro (Philippines). He is Professor for Composition and Orchestral/Choral Conducting and the Associate Dean of the Conservatory of Music, Theater and Dance at the Liceo de Cagayan University.