COMPOSERS A-Z ->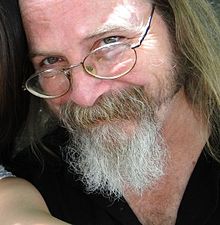 Michael Schelle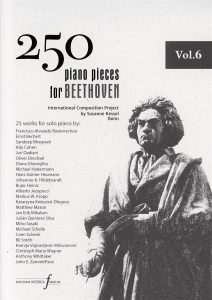 Vol. 6
Michael

Schelle
(US)
– Alberti Bombardier
Michael Schelle about his piano piece "Alberti Bombardier":
"Alberti Bombardier was inspired by various Beethoven "alberti bass" patterns found throughout his influential catalogue of Klaviersonaten. Many sonatas were considered, but the primary influence is from the little-known and breathtaking Sonata No. 22 in F Major, Op. 54 (1804).
Alberti Bombardier was written for the well-known and breathtaking pianist Susanne Kessel for her incredible project.
An overview of the direct influence(s) from Beethoven Op. 54 on Alberti Bombardier : A few brief direct quotes, gestures, harmonic fields and "alberti" patterns from Op. 54 are constantly manipulated – fusions of Beethoven / Schelle ideas are scattered, juxtiposed, mutated, mutilated, disassembled, re assembled, re-directed, re-purposed, re-harmonized, etc., evolving into multiple original hybrid materials that embrace the dynamic urgency of Beethoven's fast music; the opening measure is in 5/4 time; there are 108 measures in the piece (2 x 54)."
"Alberti Bombardier – in concert:
21. April 2018 – world premiere – Klavierhaus Klavins, Bonn – Susanne Kessel, piano
Michael Schelle (*1950)
was raised in northern New Jersey and graduated from NHR High School where, as Captain of the track team, he held the all-state distance records in the javelin, shot put and hammer for three years running. Now, 30+ years running as Composer in Residence at Butler University, his music has been commissioned and / or performed by over 350 orchestras, symphonic bands and professional chamber ensembles across the US and abroad, including the Chicago Symphony, the Minnesota Orchestra, the Detroit Symphony, the major orchestras of Pittsburgh, Buffalo, Louisville, Cincinnati, Kansas City and Cleveland, the St. Paul Chamber Orchestra, the Manhattan Chamber Orchestra, Urban Elektra (Phoenix), ISIS (Dallas) and XTET (Los Angeles).  Recent international performances of his music have included Kammerorchester Basel (Switzerland), the St. Petersburg (Russia) Chamber Orchestra, the Kremlin Chamber Orchestra (Moscow), the Czestochowa Philharmonic (Poland), Orquesta Sinfonica Nacional (Costa Rica), the Koenig Ensemble of London, the Banff Centre (Canada), the Beijing Opera House, CoMET (Tokyo), the Firenza New Music Festival (Italy), Zimbabwe, and the Kuala Lumpur (Malaysia) Symphonic Wind Ensemble.  He has received composition grants and awards from over 30 prestigious arts organizations including the Rockefeller Foundation, National Endowment for the Arts, American Symphony Orchestra League (NYC), National Band Association (2012 Revelli Composition Prize), the Barlow Foundation, New York State Arts Council, Great Lakes Arts Alliance, New England Arts Foundation, the Welsh Arts Council (Cardiff) and the American Pianists Association, and has held extended composition residencies at dozens of leading American universities and new music festivals, Spoleto USA, Wolf Trap, the MacDowell Colony (NH), and in Poland (Warsaw and Krakow), China and Japan (including Nagoya Imperial University). For his alter ego, during the summers of 1998 – 2003, Schelle lived in Los Angeles, writing a film music book (The Score, published in 2000 by Silman-James Press, LA, and translated / published in Korea in 2013) – and working on the original scores for such Hollywood blockbusters (?) as The Mummy, G Men from Hell and Bikini Prison.