COMPOSERS A-Z ->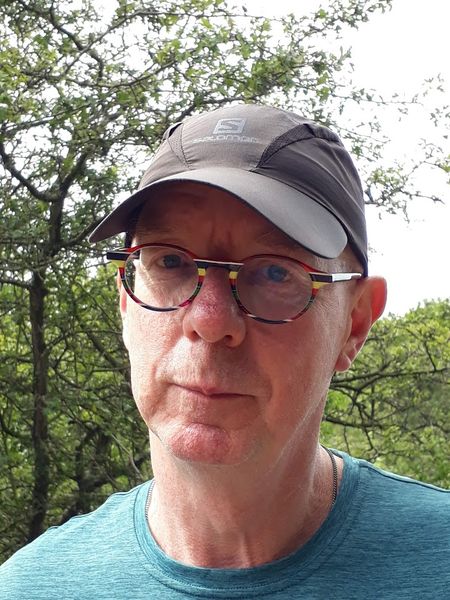 Oscar van Dillen (Photo: Elise van Rosmalen)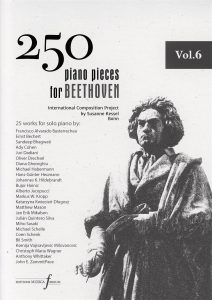 Vol. 10
Oscar van

Dillen
(NL)
– Eppur si suona il silenzio
Oscar van Dillen about "Eppur si suona il silenzio":
"Eppur si suona il silenzio, in memoriam Ludwig van Beethoven, for piano solo, was composed in 2019 for Susanne Kessel to feature in her international project "250 piano pieves for Beethoven".
The composition contains 5 layers of music, each in its own register, in mutual continual counterpoint.
The main layer serves as a cantus firmus layer, being streched like a Gregorian melody in a 12th century Notre Dame conductus, using mainly breves (double whole note values), which are harmonized with 9 different non-triadic but 3 tone chords in 4 voices, the outer two voices always in a double octave. In this close harmony of open positions in the middle register of the piano, the tones of Beethoven's Adagio from his 7th String Quartet can be found, and even sung along, although they are transformed and transported into our own time and contemporary and different experience of time and harmony. Due to this vast deliberate stretching of the basic musical time, a process which has in fact been taking place in art music for over a millennium though largely at unawares, the spreaded sounds start to allow for their embedded silences to speak; we are not merely waiting for the very slow music to continue, but one also begins to become aware of, and learn to listen to, the silence within the sound, the silence within the music, an essential element of all my works. Music is performed sound and silence.
The other 4 layers are each in another, different register, using the full range of the grand piano. Together with the main layer, they form the full contrapuntal texture of the piece. Each layer is unique and yet alike, and constructed like a musical-archeological treasure, like quasi-petrified memories of sound, seemingly referencing beethoven's work but not quoting, yet making the listener aware of the passage of time, though leaving the measuring of it up to subjective experience. The passage of time is what remains, both in the duration of the piece itself, as well as in the time passed since Beethoven of which one is reminded during the piece."
"Eppur si suona il silenzio" – in concert:
6th January 2020 – world premiere – Kunstmuseum Bonn – Susanne Kessel, piano
Oscar van Dillen über Ludwig van Beethoven:
"For me, what Beethoven is to music, Turner is to painting, Hugo to literature, Kierkegaard to philosophy, Paxton to architecture, Kelvin to phyics, Mendeleev to chemistry and Darwin to biology.
The like of such people presently living among us tends to often go unnoticed in our own days, flooded as they are with mass media that dilute rather than disseminate core cultural values."
Oscar van Dillen (NL), Dezember 2019
Oscar van Dillen (*1958)
was born in 's-Herzogenbosch. His music education having started at the age of 7, and performing both classical and rock music in his youth, van Dillen first studied North-Indian classical music from 1977 to 1980 (sitar, tabla, vocal) with Jamaluddin Bhartiya at the Tritantri School in Amsterdam and bansuri with Gurbachan Singh Sachdev at the Bansuri School of Music in Berkeley, California. Next he studied classical and jazz flute at the Sweelinck Conservatory in Amsterdam between 1982 and 1984. Here, he also received composition lessons from Misha Mengelberg. As a flutist, he was taught by Lens Derogée and Dieks Visser, and followed masterclasses from Pierre-Yves Artaud, Geoffrey Gilbert and Barthold Kuijken.
After parttime studies of medieval and Renaissance music with Paul Van Nevel in Leuven (Belgium) between 1985 and 1989, he studied classical and contemporary composition fulltime with, among others, Dick Raaymakers, Diderik Wagenaar and Gilius van Bergeijk at the Koninklijk Conservatory in The Hague in 1990-91, with Klaas de Vries, Peter-Jan Wagemans and René Uijlenhoet at the Rotterdam Conservatory from 1996 to 2002 and with Manfred Trojahn at the Robert Schumann College in Düsseldorf in 2001, where he also received lessons in conducting from Lutz Herbig. As a composer he furthermore followed masterclasses from, among others, Isang Yun, George Crumb, Jan van Vlijmen, Marek Stachowski, Zbigniew Bojarski and Gerard Brophy.
Van Dillen is a founding member of the Rotterdam School of composers, and professor of music at the Codarts University of the Arts Rotterdam since 1997. There he teaches composing, arranging, world music composition and music theory in the Jazz-, Pop- and World music, the Classical music and Music Education Academies. At Codarts Rotterdam he is also Programme coordinator Music theory for Codarts Music.
Oscar van Dillen is the inventor of original world music composition, combining strictly composed with improvised classical and folk traditions, and their techniques and mentalities for creating music: a new and contemporary form of art music. He is also founder, composer and artistic director of the Olduvai Ensemble for which he especially creates original world music compositions.
Oscar van Dillen is a member of Nieuw Geneco and the Dutch-Flemish Society for Music Theory.
Among the books he is presently writing are "Outline of music theory", "Prepositional analysis" and "Perception of music". Next to his fulltime work as musician and pedagogue, van Dillen is also a writer and parttime visual artist. A selection of his works is presented on this website.
Van Dillen also is a part-time professional visual artist, which is also documented in part on this website, see Visual Art.