COMPOSERS A-Z ->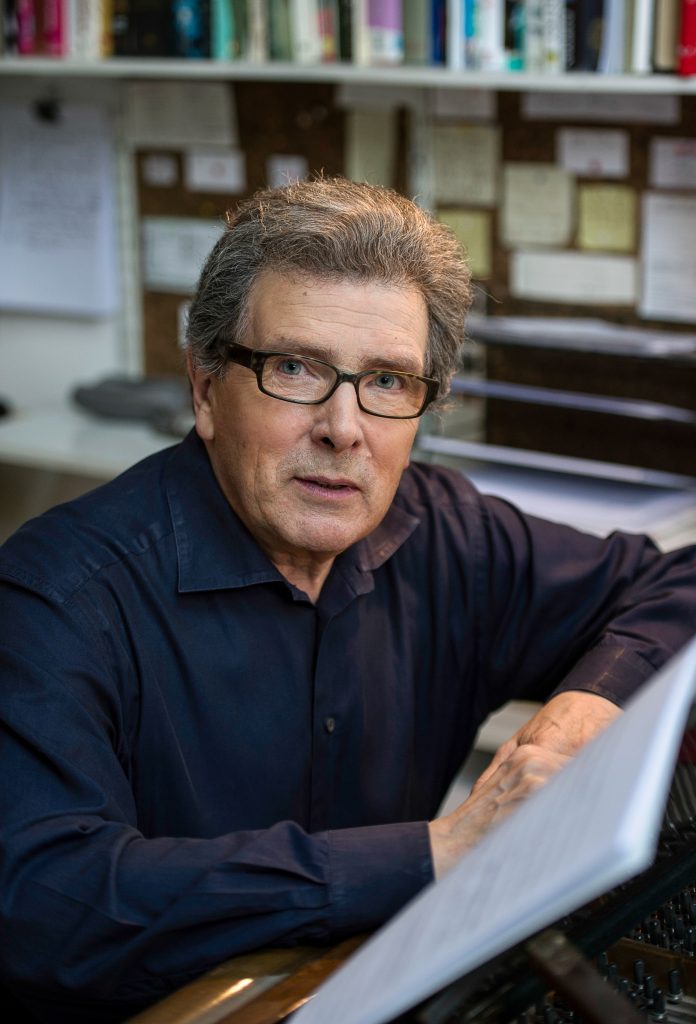 Howard Blake (photo: Clive Bard)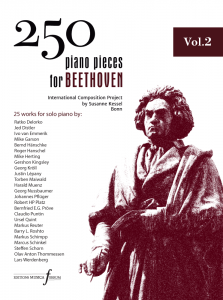 Sheet Music Vol. 4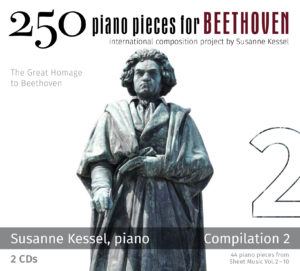 CD Compilation 2
Howard

Blake
(UK)
– Briedel Les Vaches 2017 (2)
Howard Blake about his piano piece "Briedel Les Vaches 2017"
"I collaborated with the famous Canadian animator Richard Williams during the early 1970s, notably scoring the famous credit sequence of 'Pink Panther strikes back' for Hank Mancini who for some reason couldn't make it over from Hollywood to London. Soon after this Dick asked me to compose a score for an advertising film for a Belgian milk company , Briedel, intended subtly to inform the public that milk is good for you and that their company stretched right across Europe.  It featured two cows dancing and I suggested scoring a version of  the EU 'national anthem', Beethoven's 'Ode to Joy' which transforms into a delicate waltz as the cows happily dance together.

BRIEDEL  LES VACHES is therefore:  Music for an animated film by Richard Williams Composed by Howard Blake Originally scored for  Two clarinets, horn,violin, viola, violoncello, contrabass,  piano and percussion Specially transcribed for piano June 2017 for your Beethoven 250 project."
"Briedel Les Vaches 2017" – in concert:
30. September 2017 – world premiere – Post Tower Lounge, Bonn (Beethovenfest) – Susanne Kessel, piano
14. January 2018 – Klavierhaus Klavins, Bonn – Susanne Kessel, piano
17. August 2018 – Augustinum Bad Neuenahr – Susanne Kessel, piano
6th November 2018 – Stadthalle Bonn – Susanne Kessel, piano
27th November 2018 – Schmitthalle Bonn – Susanne Kessel, piano
21th Dezember 2018 – Wohnstift Beethoven, Bornheim – Susanne Kessel, piano
Howard Blake (*1948)
Groves Dictionary of Music and Musicians states that 'Howard Blake has achieved fame as pianist, conductor and composer.' He grew up in Brighton, at 18 winning a scholarship to The Royal Academy of Music where he studied piano with Harold Craxton and composition with Howard Ferguson. In the early part of an intensely active career he wrote numerous film scores, including 'The Duellists' with Ridley Scott which gained the Special Jury Award at the Cannes Festival, 'A Month in the Country' which gained him the British Film Institute Anthony Asquith Award for musical excellence, and 'The Snowman', nominated for an Oscar after its first screening. His famous song 'Walking in the Air'  was the chart success that launched Aled Jones in 1985, whilst the concert version for narrator and orchestra is performed world-wide and the full-length ballet for Sadler's Wells runs for a season every year in London. Concert works include the Piano Concerto commissioned for Princess Diana, the Violin Concerto commissioned for the City of Leeds; the Clarinet Concerto commissioned by Thea King and the English Chamber Orchestra and  large-scale choral/orchestral works such as  'Benedictus' and 'The Passion of Mary' both recorded with the RPO. He is increasingly adding to his catalogue of CDs which includes Sir Neville Marriner conducting the woodwind concertos with The Academy of St. Martin in the Fields and 'Walking in the Air' – the piano music of Howard Blake – recorded by Vladimir Ashkenazy. He was made a Fellow of the Royal Academy of Music in 1988 and received the OBE for services to music from the Queen in 1994.