COMPOSERS A-Z ->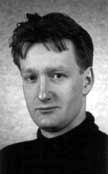 Stefan Thomas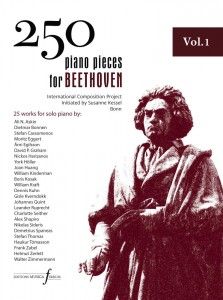 Sheet Music Vol. 1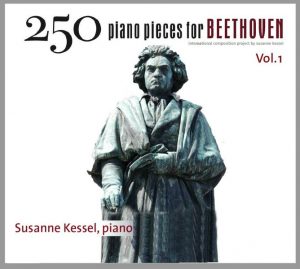 CD Vol. 1
Stefan

Thomas
(DE)
– Bagatelle mit cis
Stefan Thomas about his piano piece "Bagatelle mit cis"
"In a letter to Mathilde Wesendonck, Richard Wagner writes that to him the C# note in the beginning of the Eroica is "the note of the new music". Of course he doesn't mean the C# as such, but more the way on how it appears! It comes surprisingly after a beginning that is very conventional up to that moment. This is an aspect of Beethoven's music which I consider interesting and exemplary, even today, without wanting to revive his tonal language, which is without any doubt a part of the past. Especially in a tonal language like mine, which is obliged to atonality – which is sometimes accused of sounding arbitrary – it came to me as a special challenge to allow a tonal sound at one specific part, of the piece, that is considered something really special that moment. I made an attempt with my "Bagatelle mit cis" to the above. Apart from that, though, there is another, more cryptic hint on Beethoven. The beginning rhythm in the upper voice is the same as the one in the first bars of the cello part in Eroica. I should note that I believe that any piece should be able to be heard and understood as an independent work."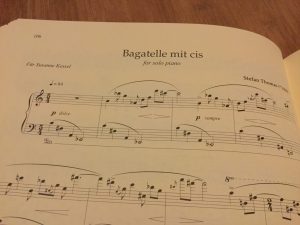 Sheet Music Edition Vol. 1 – available here: SHOP
Piano piece "Bagatelle mit cis" – in concert:
29. November 2014 – world premiere – Bonner Kunstverein – Susanne Kessel, piano
12. January 2015 – WDR "tonart" Live-Radiosendung – Susanne Kessel, piano
22. April 2015 – Rheinhotel Dreesen, Bonn – Susanne Kessel, piano
23. August 2015 – Studio der Beethovenhalle, Bonn – Susanne Kessel, piano
27. February 2016 – Studio M22, Köln – Susanne Kessel, piano
2nd July 2016 – Kunstmuseum Bonn – Susanne Kessel, piano
16. May 2017 – Foyer Européen, Luxembourg – Susanne Kessel, piano
22. May 2017 – Haus der Luft- und Raumfahrt, Bonn – Susanne Kessel, piano
About Stefan Thomas (*1968)
Stefan Thomas was born in Offenbach a. M., Germany. In 1976, he started his first piano lessons and composing activities. From 1982 to 1990 he studied at the Dr. Hoch Konservatorium in Frankfurt a.M. With Gerhard Schedl in composition and Theodora Lungu in piano. One of the first public performances of his compositions took place in 1988 at the Alte Oper in Frankfurt where Metamorphosen for pianoquartet was performed by the Merlan-Quartett. 1990-1992 he studied at the Musikhochschule Köln with Krzysztof Meyer in composition, with Ernst Grimm, Pi-hsien Chen and Peter Degenhardt in piano and with Roland Lobuer and Friedrich Jaecker in music theory. In 1991, as pianist and composer, he performed at the "Ars Musica" festival in Brüssel. Premiere of his Sestetto basso at the "Rheinische Musikfest" in Köln, recorded by the WDR-broadcast. 1992-1995 he continued composition studies in the masterclass of Tristan Keuris at the "Hogeschool voor de Kunsten" in Utrecht, Netherland. 1995 he won 1st price at the "Junge Komponisten in Leipzig". From 1996-1999 he taught harmony and counterpoint at the Musikhochschule Koln. In 1997 he received the 1st price at the Joseph Haydn competition in Eisenstadt, Austria. 1999/2000 winner of the Konrad-Adenauer-Stiftung scholarship. Stefan Thomas composed numerous chamber and orchestral music, printed by different publishers. The Sonata for alto saxophone and piano has been recorded by the Bayrischer Rundfunk and performed by John-Edward Kelly and Bob Versteegh. Some of Thomas's chamber music pieces can be heard on a CD on the Cybele label.  Website Stefan Thomas
Photo gallery: Stefan Thomas in Bonn at "250 piano pieces for Beethoven".
29. November 2014, 8. November 2015, 21. November 2015