COMPOSERS A-Z ->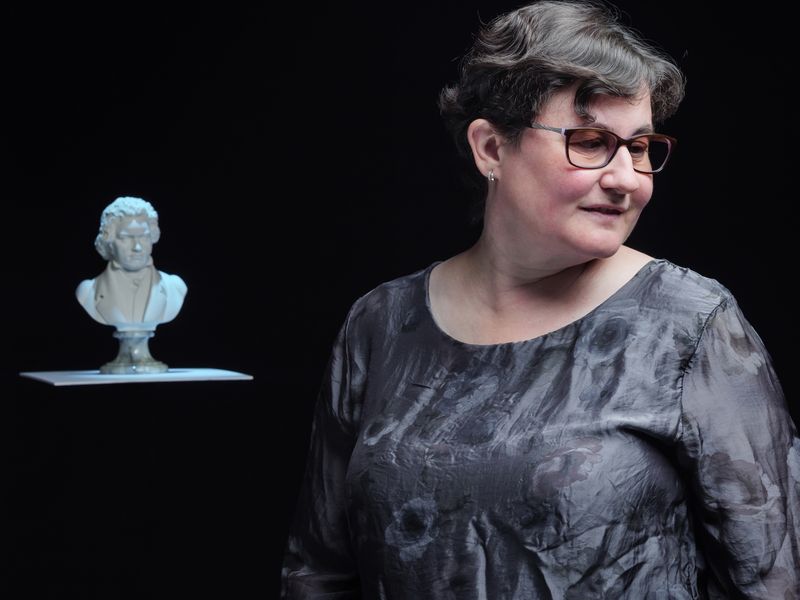 Alexandra Klein (Photo: Jean M. Laffitau)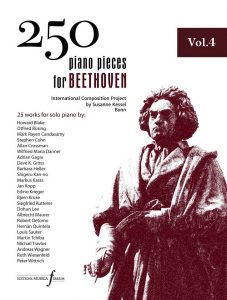 Vol. 9
Alexandra

Klein
(DE)
– Beethovens Locke - Bonn(e) B.
Alexandra Klein about her piano piece "Beethovens Locke – Bonn(e) B.":
"Beethoven's music strives towards the finale. My piece begins with the closing stretta of the two-part organ fugue in D major WoO 31, which the 13-year-old Beethoven composed and played for his examination for the Bonn organist position. The pedal point, unisons and chords are already typical features in this early work; I have paid particular attention to them. Further subjects as poetic ideas are "Die Himmel rühmen (Praise the heavens)" and the four opening bars of the "Fuga Polimetrica" from the Partita for two pianos by York Höller.
Everything is connected, dropped, cut off or picked up again, and the focus is on improvisation, death and life. In Vienna, I could still see Beethoven's curl in a glass case. "Bonn(e) B." stands for Bonn, Beethoven, Bach, Baroque, French Boucle = curl, bow and Birthday.
"Making a fugue is not an art, I made dozens of them in my student days. But the imagination wants to prove it right, and today a different, a truly poetic element must come to light in the traditional form. (L. v. Beethoven about the "Große Fuge" [Grand Fugue"])."
"Beethovens Locke – Bonn(e) B." – in concert:
14th December 2019 – world premiere – "Offene Tür Dürenstraße 2", Bonn – Susanne Kessel, piano
21st December 2019 – Augustinum Bonn – Susanne Kessel, piano
Alexandra Klein (*1972)
Alexandra Klein, born in St. Wendel/Saarland.
Musical education since the age of 4; earlyperformances with her instruments recorder and piano.
Already in childhood and adolescence, she visited orchestral rehearsals and concerts; interest in new music and composers as well as first own compositions, including a "Beethoven-Sonatine".
Blindness at the age of 17. Graduated from the Vocational School of Music at the Bavarian State School for the Blind, Munich; scholarship holder of the Foundation for the Promotion of Physically Handicapped Highly Gifted Students Vaduz/Liechtenstein. Regular visits toconcerts at the Gasteig in Munich and personal meetings with musical personalities such as Sergiu Celibidache, Daniel Barenboim, Lorin Maazel, Anne-Sophie Mutter and York Höller; guest auditor at the musical discussions "Gespräche am Kamin" and at the theory and analysisseminars of Clemens Kühn; world premiere with commentary of her composition "M a t t h ia s e k n a H – Versuch einer Orgelkomposition über eine Zwölftonreihe Op. 3″ (Attempt at anorgan composition over a twelve-tone row Op. 3".)
Studied music education with a diploma at the University of Music and Theatre Saarbrücken; main subject recorder with Wolfram Koch, diploma thesis on "Aspects of music education for the blind and visually impaired" under the supervision of Michael Dartsch; Training as a catholic C church musician in the diocese of Trier; organ with Werner Grothusmann; organ master class with Marie-Louise Langlais, Paris; contact with INJA Paris and Dominique Levacque; participation in the German-French concert planning in the Chroniques Musicales and with UGAMPA. First blind German organist at the INJA concertorgan Cavaillé-Coll/Gonzales. Composer in the composition class of Theo Brandmüller; Analysis, new harmonics andcounterpoint and composers' meeting, among others premiere on the occasion of his 50thbirthday in the Ludwigskirche Saarbrücken, "Kleines Stück für Bläserensemble" in 'German-Brass-Cast'.
Lively exchange with the Cologne composer York Höller (writing, concert visits, intensivepersonal and thematic discussions, composition studies, compositional technique and workcommentaries, computer notation). World premiere with commentary of her piano composition "Kymbălon" at Schloss Morsbroich Leverkusen, dedicated to York Höller on the occasion of his 75th birthday."Integration Prize of the Saarland 2007″ for her independent teaching activities and hercommitment to work with sighted, visually impaired and multiply disabled people; sought-after contact person for schools, students and young professionals on the topics of"blindness", "music" and "inclusion".
Public portraits on the ZDF info channel, ZDF heute – in Europa, SR Aktueller Bericht,Saarbrücker Zeitung, Wochenspiegel Saarland, VdK member newspaper on the Internet andVdK TV.