COMPOSERS A-Z ->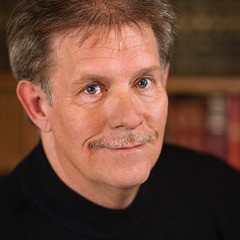 John S. Hord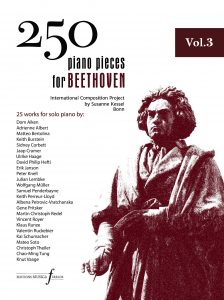 Vol. 7
John S.

Hord
(US)
– Reminisces of Beethoven
John S. Hord about his piano piece "Reminisces of Beethoven".
"Works embraced in this composition: Credo from Missa Solemnis, Op. 123; Piano Sonata Op. 14, No. 1; Piano Sonata Op. 2, No. 1; Piano Sonata Op. 110; Piano Sonata Op. 109; String Quartet Op. 132. Other areas within the composition are my interpretations of certain aspects of his personality.
This piece is to be played with abandon as if one is at home improvising with no particular goal in mind other than sheer spontaneity. This is a bit of fantasy emulating Beethoven at home, alone while being forced to practice but, when alone, using much of his time to explore sounds and develop his skills at improvisation. The various combinations of pitches and pedal usage in this work allow for the floating quality of memories and to illustrate the growth of Beethoven in making new sounds within the piano. The augmented fourth symbolizes the inner conflicts of Beethoven. Consonances symbolize moments of his acceptance of life and his love of nature.
I believe his love of nature was his visible expression of his love of God. The use of B-natural and F-natural are guideposts through this composition. Measure 1 – the whole notes are the lowest chromatic pitches on the 88 key piano. Measures 4 and 5 – the cry of the lone wolf. Coda – his final heartbeats are symbolized by the B-natural. The F major chord symbolizes his final release of the torments of his life and the acceptance of passing into peace. The final measure of paused silence is a quiet remembrance of, and thanksgiving for, his life and work."
Piano piece "Reminisces of Beethoven" – in concert:
2nd May 2019 – world premiere – Leoninum Bonn – Susanne Kessel, piano
John S. Hord (*)
B.A. Music Composition with Dr. Jack Fortner, Dr. James H. Winter. M.A. Piano Performance/Pedagogy with Dr. Bob L. Bennett (student of Carl Friedberg who was a student of Clara Schumann and Johannes Brahms) and Dr. Robert Pace (student of Josef and Rosina Lhévinne). Studies were completed at Columbia University, New York and California State University, Fresno. Mr. Hord has composed music for myriad needs and purposes. This will range from the 2015 Sight Reading Exam pieces (eleven level, Preparatory through Advanced) for the state wide Piano Performance Exams of the Music Teachers' Association of California (approximately 40,000 students), to the Evening Office for the Episcopal Church. Recent compositions include 8 Bagatelles for solo piano. Recent arrangements include: the 2nd Concerto for Piano and Orchestra, 1st movement, by Dmitri Shostakovich arranged for Piano and Concert Band; the 2nd movement of Piano Concerto K. 467 by W. A. Mozart arranged for two pianos, eight hands. He is retired from 25 years of teaching and performing at Fresno City College. In addition to piano he taught History of Rock. In January 2018 he performed at the NAMM Show, Los Angeles, California and will appear again in January 2019. He has performed internationally for several decades. One of the most memorable was in Los Angeles, 2009, when he performed Nine Bagatelles by William Bolcom. Dr. Bolcom was in the front row and congratulated Mr. Hord onstage. Mr. Hord is a performing member of the American Liszt Society and the National Society of Arts and Letters, and is a life-member of Phi Mu Alpha Sinfonia.. He is a Reader at the Getty Institute of Research housed at the Getty Center in Los Angeles. In June of 2018 he conducted research at the Bruno Walter branch of the New York City Library located behind Lincoln Center.
Mr. Hord is published by Hal Leonard Corporation.