COMPOSERS A-Z ->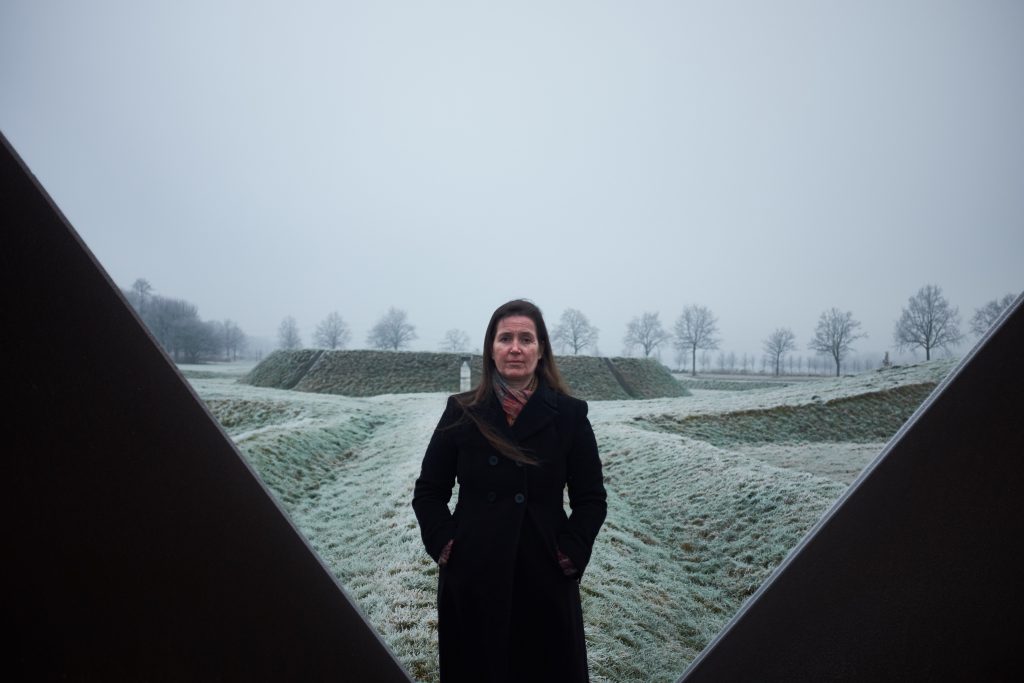 Miranda Driessen (Photo: Peter Teunissen)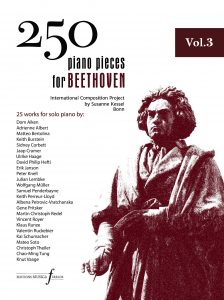 Vol. 7
Miranda

Driessen
(NL)
– Werden Menschen Brüder? Alle?
Miranda Driessen about her piano piece "Werden Menschen Brüder? Alle?":
"Looking at the state of Europe, at the very start of 2019, one wonders what is left of the ideas of the Enlightment that shaped it. A few decades in the last century it almost seemed as if it finally reached an almost triumphant finale: from the breakdown of the Berlin Wall, now almost 30 years ago, resulting in the reunion of the two Germany's, to the monetary union founded in Maastricht in 1992 (where I happened to study at the time) resulting in the introduction of the Euro, now exactly 20 years ago. More and more countries became members of the EU, and everything seemed to be fine until somewhere in the first decade of the new Millennium the tide slowly altered. And now, on this second day of the New Year, we're at the brink of Brexit, the birthplace of European culture Greece still in a precarious economic state, politicians calling for new walls around the Mediterranean, countries refusing to allow refugees, other countries complaining too much of their wealth being drained to other countries. What would Ludwig think of all this, his Ode to joy theme being the official anthem of the European Union?
According to Slavoj Zizek Beethoven already questioned the idea of universal brotherhood in his 9th Symphony, his revolutionary idealism being shattered before by Napoleon's narcissism. The question when it comes to the ideology of universal brotherhood is: Werden alle Menschen Brüder? Or is there someone exluded? The second part of Ode to joy stands in sharp contrast to the first, being more vulgar and ultimately outrageous. It expresses a joy of united humanity that's over the top, running out of hand. According to Zizek Beethoven here tells the true story of that which disturbs the ideology of universal brotherhood and the eventual failure to constrain or tame it.
Hence, my question…"
Piano piece "Werden Menschen Brüder? Alle?" – in concert:
2. May 2019 – world premiere – Leoninum Bonn – Susanne Kessel, piano
9. January 2020 – Museum Kurhaus Kleve – Susanne Kessel, piano
Miranda Driessen (*1969)
In her childhood Miranda Driessen dreamed of becoming an explorer until one day a teacher told her she had to consider another career since every corner of the earth already had been discovered. After the initial shock of this message, she decided this wouldn't stop her. For her there was still a whole universe to discover.
Her career as a composer started off late entering the Rotterdam Conservatory at 35, meanwhile working as a music educator and singer. From her infinite curiosity her desire to dive into various musical styles, -cultures and -histories results in a great diversity of works containing  unexpected connections combining western- and non-western instruments, alternative tuning systems, historical instruments, soundsculptures and -installations. For every new work she sets off on a journey exploring new worlds. With all these elements she creates music that invites the listener to join her on this voyage, discovering immersive experiences from wordless stories on humankind.
In 2018 she produced her first music-theatre work Koerikoeloem in which she combined contemporary poetry by Tjitske Jansen, environmental soundsculptures from Jan Heinke and Steffen Hartmann with her fascination for Mozarabic neumes from Medieval Spain.
Her work has been performed throughout the EU by outstanding ensembles such as the Asko ensemble, Doelen ensemble, Nieuw Ensemble, Orkest De Ereprijs, and the Kokoro ensemble. She worked closely together with soloists like Gerrie de Vries, Makiko Goto, Kaoru Iwamura, Naomi Sato, Katerina Konstantourou, Maja Mirocha, Ere Lievonen and Sarah Jeffery.
Miranda Driessen is a member of the Dutch composers association Nieuw Geneco. In recent years her work has been supported by the Dutch Foundation for the Performing Arts.