COMPOSERS A-Z ->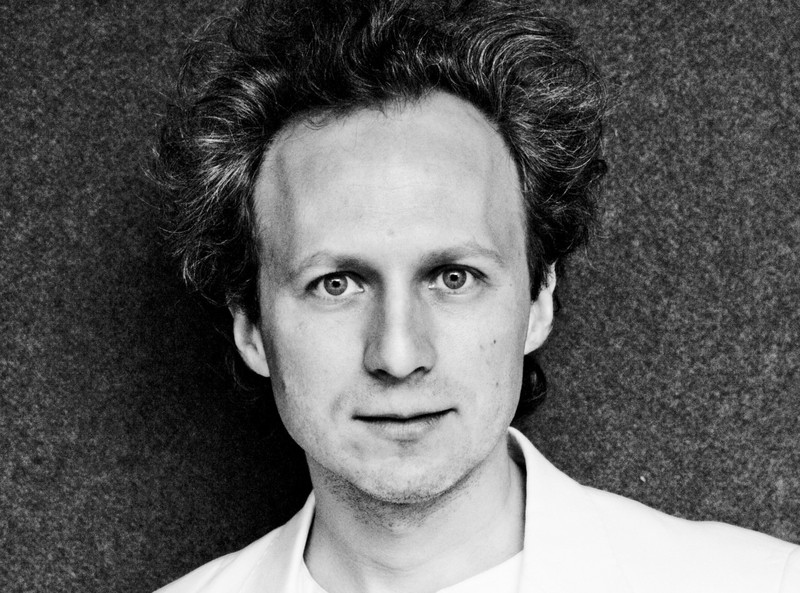 Leon Gurvitch (Photo: Steffen Gottschling)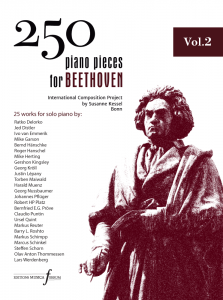 Vol. 5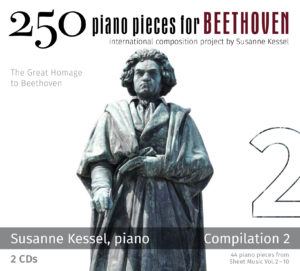 CD Compilation 2
Leon

Gurvitch
(BY/DE)
– Ludwig, wann?
Leon Gurvitch about his piano piece "Ludwig, wann?"
"Wie ein Blitz kam das Stück "Ludwig, wann?" Ende Mai 2017 in meinen Kopf. Ohne gross nachzudenken, und ohne dass ich mir etwas vorgenommen habe, sind es genau 57 Takte geworden. So viele Jahre wie Beethoven gelebt hat. Ist diese Zahl ein Zufall oder keiner…?
Die Motive in diesem Stück sind bekannt: von der 5. Sonate c-moll bis zum Finale aus der 9. Symphonie von Beethoven.
Generell habe ich versucht, die Athmosphäre von Beethovens Klavierwerken mit vielen Emotionen zu gestalten und einen musikalischen Bogen ins 21. Jahrhundert zu finden."
"Ludwig, wann?" – in concert:
15th July 2017 – world premiere – Marktplatz, Bonn (Beethoven-Countdown 2017) – Susanne Kessel, piano
17th August 2018 – Augustinum Bad Neuenahr – Susanne Kessel, piano
30th August 2018 – Klavierhaus Klavins, Bonn – Susanne Kessel, piano
24th February 2019 – Emmaus-Kirche, Bonn – Susanne Kessel, piano
16th June 2021 – Musikhochschule Detmold – Timur Osmanov, piano
Leon Gurvitch (*1979)
Leon Gurvitch is composer, pianist and conductor. He is the author of more than 300 compositions & arrangements. He was born in Minsk, studied at the Belarussian Music Academy and Hochschule für Musik und Theater, Hamburg.
In 2000 he founded the Leon Gurvitch Project, conceived as a musical genre-crossing ensemble with outstanding musicians, influenced from many corners of the world.
Since 2004 – assistant professor at the J. Brahms Conservatory in Hamburg.
In 2010 the first album "Eldorado" was released, 2014 produced a solo piano CD "Remember Me". 2017 – solo piano CD "Poetic Whispers".
2015 – Leon Gurvitch, dedicates his orchestra work "5 Dances in Old Style" to the project "Classic for Peace", performed in Bundestag.
Works by Leon Gurvitch were given at Carnegie Hall, Kennedy Center for Performing Arts in Washington, at Brussels's Palais des Beaux-Arts, Moscow Tchaikovsky Conservatory, Oboe Festival Paris.
Collaborations with the Hamburg State Opera, The North German Radio Symphony Orchestra (NDR), Berliner Camerata, Kammerphilharmonie Frankfurt and legendary German theatre director Peter Zadek. In 2013 he composed a "Musical Phantasy on Poems by Daniil Charms" performed in the Hamburg State Opera.
Leon Gurvitch composed music for Oscar-nominated film director Menahem Golan. 2011 conducted the premiere of Philip Glass's opera "Les Enfants Terribles".
Nomination for Hamburg Music Award 2015 in the Category: Musician of the Year.
2016 – Composer & Pianist in Residence by Stella Adler Studio of Acting in New York.
2017 – Debut at Carnegie Hall, New York.
Works by Leon Gurvitch are published by Boosey & Hawkes.