COMPOSERS A-Z ->
Markus Karas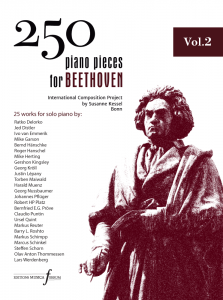 Sheet Music Vol. 4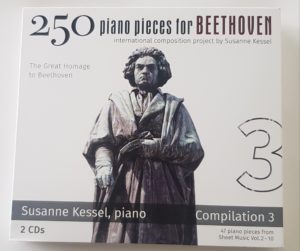 CD Compilation 3
Markus

Karas
(DE)
– Mass-Memories
Markus Karas about his piano piece "Mass-Memories":
"When Susanne Kessel invited me to contribute a composition to her project 250 Piano Pieces for Beethoven on the occasion of the 2020 jubilee, I was thrilled about the chance to write two reminiscents of the master´s mass in C-Major, which the choirmasters of the Bonn Münster   have been performing for almost 100 years (not only)  in the Easter Sunday Service. The connoisseur will easily recognize analogies to Beethoven´s subjects. But it was more important to me  to condense the themes of "Kyrie" and "Gloria" in a new way with my own musical language. I intentionally adopted the tempo-headlines and the harsh changes in character and dynamics which are so typical of Beethoven; they are important elements, as well as the second movement´s  special rhythm.  And that is how the two little memories became a little "Tombeau de Beethoven"."
"Mass-Memories" – in concert:
Markus Karas (*1961)
grew up in Frankfurt/Main where he graduated with honors as church musician and organ virtuoso. In 1989 he became choirmaster and organist of the Münster in Bonn, furthermore he was appointed as principal cantor of the deanery in 1992. For many years he participated in the Bonn Beethoven-Festival as conductor and organist. Karas is choirmaster of the award-winning women´s chamber-choir BonnSonata and of the Rheinischer Kinder- und Jugendchor Bonn. His manifold artistic activities during the last three decades include TV, radio and CD recordings, as well as lectureships and concerts all over the world. In 2008 he became laureate of the Sudetendeutscher Kulturpreis Musik. Markus Karas is co-editor of the periodical Musik & Kirche, compositions of his own are published by various publishers. Many of his former students have become successful as cathedral-organist, composer, professor or municipal cantor. Markus Karas is appointee for the composers of the archdiocese of Cologne.