KOMPONISTEN A-Z ->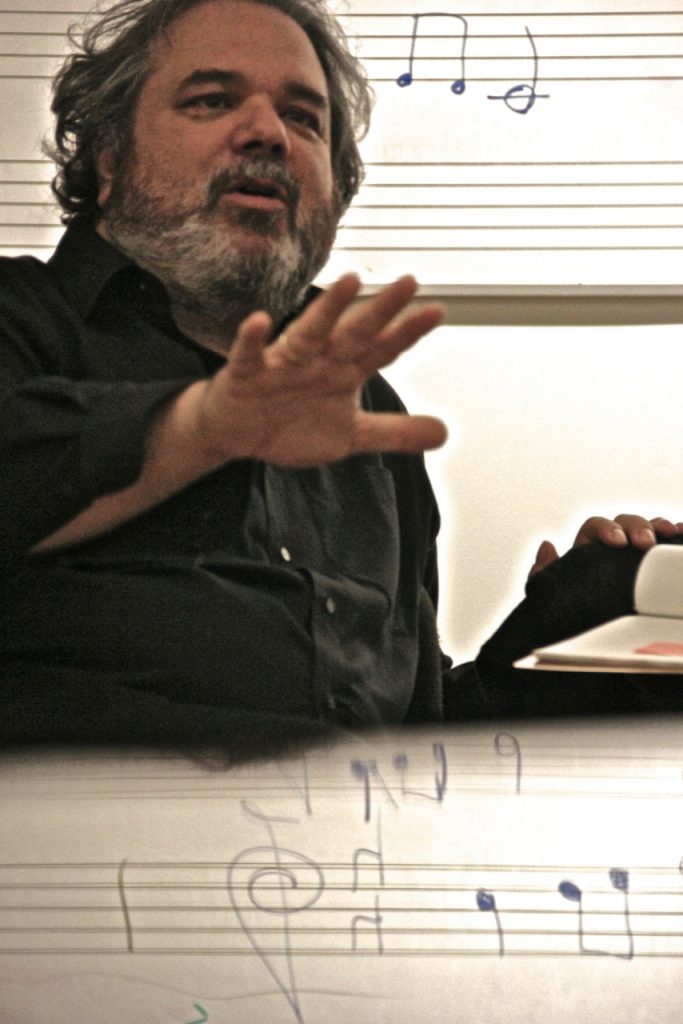 Sandeep Bhagwati (Photo: R. Del Tredici)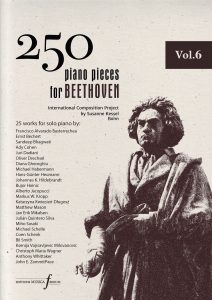 Vol. 6
Sandeep

Bhagwati
(IN/CA)
– ... diabellissimo...
Beethoven-Bezug des piano piece "… diabellissimo…": Diabelli-Variationen
Sandeep Bhagwati über sein piano piece "… diabellissimo…"
"Diabellissimo" ist eine weitere Variante von Diabellis berühmtem Walzer, von dem es so viele gibt, nicht nur die von Beethoven: Es war schließlich ein Wettbewerbsstück. In den letzten Jahren habe ich viel mit Kompositionssoftware gearbeitet, die stilistische und klangliche Eigenschaften einer Musik in eine andere überführen kann – im Wesentlichen genau das, was Beethoven tat, als er den Walzer zu einem Marsch machte (Var I und XVII). Dabei habe ich auch künstliche Intelligenz eingesetzt, die Musik in Echtzeit auf unerwartete Weise analysieren und wiederherstellen kann. Diese vielen Stunden des Hörens von Live-Musik, die durch alle Arten von Filtern, Granulationen und Fragmentierungen verändert wurde, beeinflussten zweifellos meine Ohren. Als ich dieses Stück komponieren wollte, ließ ich die Software beiseite – aber ich versuchte, die Musik zu hören, als wäre ich selbst ein solcher Filter, jemand, der Beethoven mit strukturell fremden Ohren hörte. In dieser Komposition sind viele der Tendenzen, die Beethovens Zugang zu den Diabelli-Variationen bestimmen, präsent, aber in einer Art Overdrive: die Fragmentierungen der Variation XIII, das rasante Tempo der Variation X, der große Abstand zwischen den Stimmen, die quecksilbrigen Stimmungsschwankungen, der beissende Humor und mehr: eine Art überzeichneter, aufgeputschter Beethoven Stil. Natürlich hat sich die musikalische Sprache seit Beethoven auch entwickelt, und während man, wenn man genau hinhört, die Harmonien von Diabellis Walzer im Hintergrund der Musik erkennen kann, ist der Vordergrund respektlos dissonant und überschwänglich kakophonisch. Die undankbare Aufgabe für den Pianisten ist es, den hochverzwickten Klaviersatz beiläufig und locker erscheinen zu lassen: ein Taschenspielertrick nach dem anderen…..ich bitte alle Pianisten dafür schon um Voraus um Verzeihung."
Piano piece "… diabellissimo…" – Aufführungen:
26. März  2019 – Uraufführung – Beethoven-Haus Kammermusiksaal Bonn – Susanne Kessel, Klavier
Sandeep Bhagwati (*1963)
was born in Bombay. He is a composer, poet, multimedia artist, festival director, publicist and researcher.
His multi-media concert installations, his music theatre works (among them three operas), orchestra and ensemble compositions, his chamber music and comprovisation scores are performed worldwide at leading festivals and venues, too numerous to list here. In 2014, the "Time of Music Festival" in Viitasaari, Finland showed a retrospective of his works. In 1991, he won the European Composition Prize awarded by the Academy of Arts Berlin, and in 1997 and 2003 the Ernst-von Siemens award for festivals he founded, the A•Devantgarde Festival in Munich (active since 1991), and the KlangRiffe Festival in Karlsruhe (2003). He has been composer-in-residence at the Beethoven Orchestra Bonn, the Darmstadt Initiative for New Music and Education, the Turku Music Academy, and the California Institute for the Arts.
He has also curated a long-term collaborative project between prominent musicians of the Hindustani tradition and the Ensemble Modern Frankfurt, and has toured with it to Concertgebouw Amsterdam, Venice Biennial, HKW Berlin, World New Music Festival Stuttgart and the National Center for the Performing Arts in Mumbai.
After studies at the Mozarteum Salzburg, Music University of Munich and the IRCAM Paris, he freelanced for a decade before he accepted a position as professor of composition at Karlsruhe Music University (Germany). From there he moved to Montréal as the Canada Research Chair for Inter-X Arts and founded matralab, a node for research-creation in the performing arts he directs at Concordia University since 2007. He was a guest and visiting professor at Heidelberg University, University for the Arts Berlin, Flame University Pune and has lectured and taught master-classes at many universities and conservatories worldwide. His academic work is published with academic publishers such as Springer, Routledge, Delatour and Schott.
His current research focus lies on generative and tactile and audio scores for moving musicians, on artificial intelligence-driven comprovisation software, on inter- and trans-traditional musicking, and on new presentation formats for digitally informed performance-creation.
After many creative collaborations with traditional musicians around the world he has founded and directs three ensembles of trans-traditional new music in Berlin (Ensemble Extrakte), Montréal (Ecstasies of Influence) and Pune, India (Ensemble Sangeet Prayog) and is about to embark on a collaborative project with indigenous Tao singers on the Pacific island of Lan Yu near Taiwan, sponsored by the Music University of Vienna.
Apart from dispersed works on curated albums of other musicians, Bhagwati has so far published 2 monographic CDs: "Dhvani Sutras" (2016) with Ensemble Sangeet Prayog Pune and "Treatises" (2017) with Ensemble Extrakte Berlin. Several CD projects will appear in 2019, such as a multi-album with 5 different complete recordings of his "Miyagi Haikus" cycle, an electronica album called "Iterations" in collaboration with Gebrüder Teichmann, a album with an a cappella work sung by the Neue Vocalsolisten Stuttgart "Atish-e-Zaban" and an live-album called "…et je reverrai cette ville étrange", a trans-traditional re-imagining of the eponymous score by Claude Vivier.
While in Germany, he published many articles on new music and the arts in quality weeklies and dailies such as Süddeutsche Zeitung, Die Zeit, Neue Zürcher Zeitung, and wrote a large number of radio features and radio plays for German public radio stations.